BoatWide
manufacture high quality custom built tanks for Spain, the Balearics and Portugal (BoatWide can also brand tanks as "Tek Tanks"
). BoatWide
provide custom built tanks in 10mm thick high density polyethylene suitable for Water, Waste or Diesel, for boats, vehicles, houses and many other applications.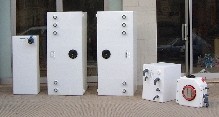 With the increasing legislation on holding tanks and in some cases grey water tanks, it is even more important to know you have a custom tank manufacturer right in the Mediterranean. Many of the custom tanks BoatWide has manufactured have been for boats not originally designed with space for holding tanks, everything is possible with a custom made solution.

BoatWide take a lot of care in making the tanks exactly to the size and shape measurements. Fittings can be added such as hatches, dip tubes, senders and guages, of course an inlet, outlet and vent are necesary. Each tank is custom made to the customers requirements and the space available to hold the tank. The tanks are guaranteed for 3 years and comply with ISO standards.

The custom made tanks are the ideal replacement if inadequate holding tanks have been installed and are not functioning to an acceptable level.

Whether you are changing an existing tank or fitting a new one, our manufacturing processes here in Spain ensure the same quality product as you get from the well known "Tek Tanks" company in the UK.

Get a quote for a standard tank
Please have a look in our catalogue for the tank you require and send us your details with any extra items necessary.

Get a quote for a custom made tank
Quality custom made tanks in polyethylene, an investment worth making! Now you have a real choice. Donīt be tempted to buy cheaper alternatives that will cost you more in the end, when the welds or walls of the tank corrode or break.

Simply send us a drawing including all dimensions, fittings, accesories required.
We aim to turn around quotations as quickly as possible, sometimes as quickly as 2-3 hours, however please allow 2-3 days to receive your quotation as we may be experiencing high workload.
1. If you are unsure of the dimensions, make a cardboard model of your tank
2. It is useful to read the Tank Design and Installation Guide
3. Have a look at the Catalogue section for more information on fittings and accesories
4. Download the volume calculator to get an idea of the approximate capacity (MS Exel 21kb)
Please also have a look at our Photo Gallery and Case Studies of tanks already manufacturered. Please contact us to discuss your requirements.
Fax / Tel number (00 34) 93 635 07 78
Email: info@boatwide.es
Please Note: Regular shaped tanks are generally manufactured to within 3mm of tolerence. Shaped tanks are likely to exhibit greater variations to tolerance, up to 5mm is possible and this should be allowed for when sizing the tank. If there are dimensions that are more critical than the 5mm then please let us know. Please also note that, in use, tanks can experience pressures up to 28 Kpa (4 p.s.i), this can introduce a certain amount of temporary distortion in the tank.
Other custom made items include fridge boxes, battery boxes, chopping boards, instrument panels, first aid boxes, the list is endless. All can be made according to your design to the same high quality standard as our tank products.
Custom made fridge boxes
Do you want a fridge but donīt have the space for a regular shaped "Off the shelf" unit?

We can make you a fridge box to your exact requirements including supports for shelves to be mounted inside..

You then fit the fridge plate from the fridge manufacturer of your choice. The cold plate is mounted inside, holes are made to pass the compressor pipes, the compressor mounted in a suitable position. The whole fridge box is secured into place using a spray type expanding foam injected around to a width of 50mm.

We can also make the lid if you require. Many customers make their own. The top of the box and the lid or cover will also need some insulation.

Applications include boats, caravans, lorries, holiday homes

The advantage of this solution is that the fridge box can be made to any size or shape to take advantage of any shaped apertures where a normal fridge will not fit.
Custom design - maximum capacity
5 year Guarantee and ISO Statement of compliance




--------------

Polyethylene
High density polyethylene is UV resistant , it has good odour retention properties and it is a food grade material and therefore suitable for drinking water or other food uses.
Itīs re-cyclable too!!!


Weight comparison

1 sq metre
10mm polyethylene = 9.5 Kg

1 sq metre of
1.5mm stainless steel = 12 Kg

1 sq metre of
2.5mm aluminium = 7 Kg