---
Grey water systems in boats

Many of the custom tanks manufactured have been for boats not originally designed with space for holding tanks or grey water tanks and whilst some customers find a standard tank option works for them, generally the dimensions of the standard tanks in terms of length, width and height means choosing a smaller capacity tank just to be able to fit it into the space available. If you need greater capacity or an irregular shape then a custom made tank is the answer. Nevertheless, standard tanks are a quick and easy solution perhaps whilst considering locations and dimensions for a custom made tank.

Both the walls and welds of custom made tanks are manufactured from 10mm thick high density polyethylene. Baffles are used inside for structural strength and to prevent excessive movement of the contents. The tanks are guaranteed for 5 years and comply with ISO standards such as ISO8099 for holding tanks. We have a range of fittings and installation items viewable in our catalogue, if you require a standard tank we have a range of different capacities available, also viewable in the catalogue.

In our experience, every tank is different, every installation is different and every owner has individual requirements. Each tank is custom made to the customers requirements and the space available to hold the tank. Whether you are planning to install your tank yourself, or whether you prefer to use an installer, there are some important considerations regarding the complete system.
Grey water tanks

A typical boat (power or sail) will have grey water discharge from perhaps:

2,3 or more sinks (galley and heads)

1 or 2 onboard showers

From galley sinks there may be food waste and other waste from showers. A typical installation would be to have all pipework from all sinks and showers to go via multiple inlets into one tank which also has an outlet, vent and a maintenance hatch. If more than one tank is required in order to take advantage of multiple spaces, the discharge pipes can be connected using "Y" valves for ease when discharging.

The outlet installation can include discharge from the deck, using pump-out facilities or through the hull using a skin fitting and hull valve. Installations can take advantage of both discharge options allowing flexibility depending on whether the contents are being extracted through deck pump-out whilst the boat is in a marina or discharging through the hull in deep waters. An electric or manual diaphragm pump, capable of dealing with food and shower waste is used for discharge in grey water installations.

An optional pre-tank filter box is also available for a more robust system solution.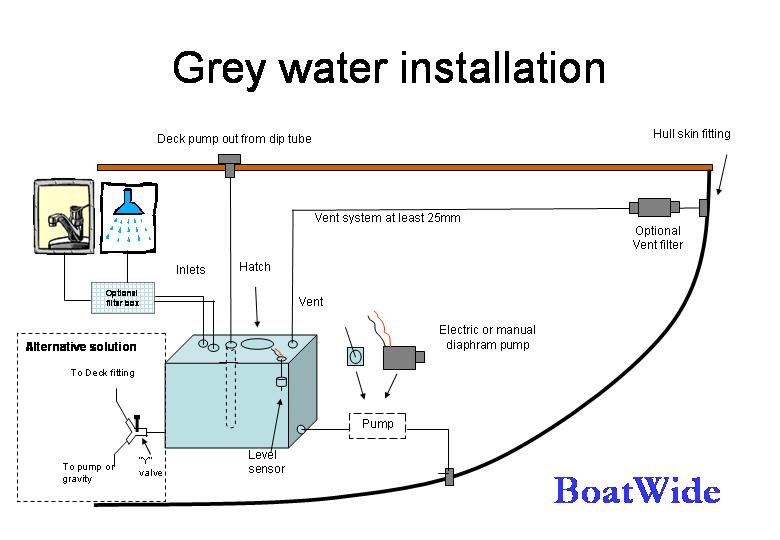 Please note that separate tanks should be used for grey water and black water. Installations of sinks on boats do not have a water loop to prevent smells, which means if grey and black water is together in one tank, odours can escape straight from the tank up through the sink plughole.
Where to start
When considering where to locate grey water tanks, we recommend making a model of the tank using cardboard and tape. It makes it easier to appreciate the tank size and shape, and where inlets, outlets, vents and hatches, level sensors etc, are to be located on the tank, it also helps you to consider where pipework will run throughout the boat and whether the tank, once made, will pass through the boat to the intended location. Some customers have found two smaller sized tanks are better than one big tank, depending on the space to be used, and other customers have re-specified dimensions of existing water tanks (for instance) in order create and to better utilise the space which means they have been able to accommodate a grey water and black water tank within their installation.

To order standard tank or installation items, please contact us with the reference numbers of the tank or items you wish to order. For custom made tanks we require a drawing of the tank with all dimensions and apertures marked. Some customers simply prefer to send us the model they have made out of cardboard and tape, or an old tank (if in existence) for duplication.

Please contact us to discuss your requirements. Back to the Custom tanks page.
---